(

odditycollector
May. 30th, 2011
07:13 pm
)
Your Silly Question stars:
1 Burton Guster
2 Agatha Heterodyne
3 Lois Lane
4 Jaime Reyes
5 The Old Spice Man
6 John Egbert
7 Rose Lalonde
8 Meredith Grey
9 Karkat Vantas
10 Cassandra Cain
11 Starbuck
12 The doctor
13 Cristina Yang
14 Amanda Waller
15 Spankbot
Yeah, no real surprises! And now for the Silly Question Answers:

kimberly_t
asked:
If Agatha Heterodyne and Rose Lalonde had a baby together, what would the Old Spice Man think is a good baby name?
He has
a few suggstions
.
"Pacific Surge Lalonde!" "No."
"Playmaker Heterodyne!" "No!"
"Denali Heterodyne-Lalonde!" "N--- Actually that one isn't too bad."
"Swagger Lalonde-Heterodyne!" "Rose! Why are we letting this man name our child!" "I wasn't aware that we were."
Although there's a worrying possibility Rose will support his suggestion of "Odor Blocker Fresh Heterodyne-Lalonde." The passive aggressive battle of child-rearing starts *early*.
And of course if any two ladies on this list are going to bring a freak of nature into this world, Agatha and Rose are the ones you wouldn't even blink to hear it of. Probably Rose was showing Agatha an ectobiology machine and one thing simply lead to another.
John challenges Karkat to a duel, but Burton Guster declares himself/herself the arbitrator and decides on the weapons used. Who wins, and how?
*facepalms*
No, John. No. I am not sure what you are doing, but I am pretty sure you are doing it WRONGLY. You need to learn to think these things through!
I think what happened is Gus has put together a Karaoke competition/benefit to raise money for sad adorable orphans. John is so there. EVERYONE should be there.
So when he catches sight of his best alien buddy, he calls out: "Hey, Karkat! Do you want to duel me at the Karaoke Hall?"
Karkat is not aware of what or where that is or any sort of context. But. "...Yes."
"Awesome, Dude. Be there Saturday at 7:30."
Karkat is entirely thrilled. Is this a thing that just actually happened in real life, as opposed to his not-so-secret imaginings?
He spends the rest of the week weirding out everyone who knows him with his uncharacteristic cheerfulness. He's busy polishing his sickles. Polishing his claws. Experimenting with making his hair look like... well, like he did it on purpose, anyway. Picking out what he's going to wear.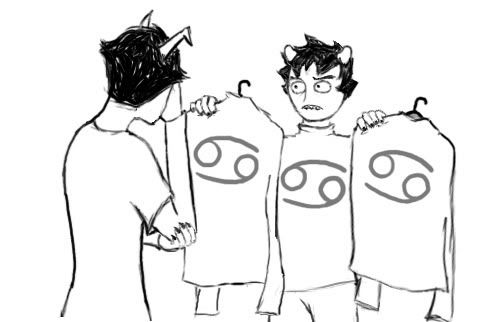 DOES THIS SHIRT MAKE MY TEETH LOOK SMALL?
Karkat All Of Your Shirts Are Precisely Identical To Every Observable Measure
I KNOW THAT! ARGH! WHY DO YOU THINK THIS IS LIKE POUNDING A MUSCLEBEAST DICK SIDEWAYS THROUGH MY BRAIN. HOW THE FUCK AM I SUPPOSED TO DECIDE?
Well
If You Are Interested In Expanding Your Options I Have Spent Some Time Considering Possible Additions To Your Wardrobe
Including Items That Would Be Appropriate For A Date
YOU HAVE?
YEAH, UM, I MIGHT BE INTERESTED IN THAT.
I MEAN, I STILL DON'T UNDERSTAND THE POINT OF FASHION. BUT I GUESS IF YOU'RE WILLING TO HELP ME, I TRUST YOU NOT TO MAKE ME LOOK LIKE THE MOTHER GRUB'S PRIMARY ANAL SPHINCTER.
I Will Do My Best To Prove Your Trust Well Founded
And Without Imitating Too Flagrantly A Seadweller Of Our Acquaintance I Am Excited To Share My Ideas With You
Ive Designed A Selection Of Outfits And Jackets Which Should Enhance And Bring Focus To Your Best Qualities
YOU THINK I HAVE BEST QUALITIES?
OR WAIT. DID YOU JUST MEAN, LIKE, LEAST AWFUL QUALITIES.
ACTUALLY IT'S OKAY IF YOU DID BECAUSE YOU CAN HELP REMIND JOHN WHY HE FINALLY REALIZED HE HATED ME.
We Have Established Theres No Response I Can Make That Wont Cause You To Mope Or Start Yelling So This Is The Part Where I Sigh Sadly And Change The Subject
Here I Go
Sigh
Unfortunately I Still Have To Ask
WHAT?
I Do Not Mean To Impugn Your Instincts In The Arena Of Romance Because As You Might Recall I Have Solicited Your Help On Several Occasions Regarding Confusion With My Own Quadrants And I Have Never Found Your Advice To Be Less Than Entirely Helpful Or To Have Failed To Give Me A New And Clarifying Perspective On Such Issues Even If I Dont Always Have The Courage To Proceed With The Actions You Suggest
OH SWEET TROLL JEGUS, SPIT IT OUT ALREADY.
Fine
Are You Certain You Havent Misunderstood The John Humans Intentions
HE CHALLENGED ME TO A FUCKING SATURDAY NIGHT DUEL, KANAYA. THERE IS NOT A LOT OF ROOM FOR MISUNDERSTANDING HERE.
EVEN FOR SOMEONE AS STUPID AS EGBERT, WHICH IS PRETTY DAMN STUPID. I CAN'T EVEN PLACE HIM ON THE LUSUS INTELLIGENCE SCALE. HE FALLS OFF SOMEWHERE BELOW SOLLUX'S MONSTROSITY IN TOTAL THINKING CAPACITY. I HAD TO READJUST THE BASELINE USING A ROCK I FOUND IN AN ALLEYWAY, AND I'D STILL RATHER TRUST THE ROCK WITH LONG TERM PLANNING OR OBSERVATION SKILLS.
AND WHY THE HELL ARE HIS EYES SO BLUE? I MIGHT AS WELL BE STARING INTO THE SKY WHILE THE SUN'S OUT, OR SOMETHING ELSE ROUGHLY EQUIVALENT STABBING MYSELF IN THE FACE OVER AND OVER AND OVER. IT'S LIKE HE MADE THEM JUST TO OFFEND ME PERSONALLY.
Yes I Consider Myself Well Briefed On The Topic Of John Egbert
And Of Course I Am Pleased To See You So Happy
Nevertheless I Wish To Provide My Assurance That I Will Be Available In The Case The Evening Doesnt Match Your Expectations
NOT FUCKING POSSIBLE. I HAVE THIS ALL PLANNED OUT, OKAY.
WE'RE MEETING IN FRONT OF THE KARAOKE HALL AT 7:30. THAT GIVES US 20 MINUTES FOR OPENING TAUNTS AND INSULTS, AND THEN ANOTHER 20 MINUTES FOR THE ACTUAL DUEL, ASSUMING HE ISN'T ENTIRELY INCOMPETENT. WHICH I DON'T.
AND THEN AFTER WHEN HE IS LYING DEFEATED ON THE PAVEMENT WITH FREAKY INVISIBLE TEARS POURING FROM HIS SKULL SOCKETS AND THE NIGHT SHAKES WITH HIS ENRAGED SCREAMING OF MY NAME, I'M GOING TO TAKE HIM TO A BAKERY.
I'VE ALREADY PLACED AN ORDER FOR THREE DOZEN COOKIES AND A CAKE WITH A PICTURE OF ANOTHER CAKE ON IT.
Nevertheless
...So basically this is the story of how Karkat tries (poorly) to pretend he didn't just have his heart stomped on when he arrives at the Karaoke Hall and realizes what happened. And then when it is his turn to sing, he jabs angrily without looking at the selection and ends up with something like "
Happy Together
". He makes it through appx. a verse and a half before throwing the microphone down, shouting that he doesn't know why any of you fuckasses are wasting your money on shit-eating monkey wrigglers when they should all be pulped to make cheap load gaper paint, and then absconding from the stage before anyone catches him crying.
(
When you're with me baby the skies'll be blue/For all my life
... The karaoke machine plays its ineptly stripped lyrics into the suddenly silenced room.)
John stands up at his table. "Ha ha ha!" he tries, but it just echoes around the shocked audience on top of a chorus of "so happy together, so happy together"s missing their vocal midtones. Then John runs out of the room after Karkat, because *something* obviously just happened, and he's worried!
It is NOW up to Gus to walk onto that stage, rescue the microphone rolling on the ground, and think of something to say that will allow the evening to keep going. I. Uh. Don't envy him right now.
No one we know wins. Except the orphan fund, I guess, because everyone is pretty offended at what happened so they give extra money.

hannahrorlove
asked:
Agatha: hamburger, cheeseburger, or veggie burger?
HORRIBLE MUTANT GIANT MAN-EATING BEAST BURGER!
Look, no one's complaining when they're stopped from rampaging. But the good people of the Empire have to dispose of the horrible mutant giant man-eating beast bodies somehow!
Rose, Cass, and the Doctor are contestants in a talent show. What individual acts do they perform, and do any of them make it to the next round?
Rose plays the violin (well... she'd signed up to play the violin, but after learning her mother would be in attendance, she changed her act to "interpretive knitting". It takes the entire max. allotted 20 min. In a display of maternal pride, Mom Lalonde hires a movie film crew to record it from multiple angles and a world renowned editing studio to best bring out the theme of Rose's work, and she can often be found watching the result repeatedly on the living room television... usually when Rose was planning on watching a show of her own choosing); Cass does some violence inspired gymnastics that leaves the entire audience breathless, astounded, and really kinda awkwardly aroused; and the Doctor appears to be inept at slight of hand tricks until the very end where his magic presentation all comes together (he may have cheated).
They don't make it to the next round, although Cass would have if there *was* a next round. Unfortunately I suspect that finding all these people on the same stage means it is the talent show at
Meme High
, and there was some trouble when Vriska got up to do her "hypnotism" "performance" and "asked" for "volunteers" from the audience and... look, I'm honestly amazed the stage lasted *that* long before getting demolished by psychic fire. Also actual fire.
(That Aziraphale was annoyed the Doctor stole his act is, I'm sure, wholly irrelevant to the lack of divine intervention in these proceedings.)
Burton Guster orders the last scoop of an ice cream flavor Meredith Grey wanted, with Meredith right behind them in line. Meredith voices displeasure over Gus's order. What happens next?
Dramatic voice over, obv.
Life is defined by our choices. From the moment we wake up in the morning, we're faced with them. Blue socks or black socks. Muffin or apple slices. Latte or Americano. Strawberry or vanilla.
But sometimes it's not just strawberry or vanilla. Sometimes it's strawberry or vanilla, or moose tracks, or chunky monkey, or any of 31 other flavours all equally colourful, delicious, and bad for you. So how do you decide?
We call this the "Paradox of Choice". What it means is that you can spend all day considering your options, listing the pros and the cons, weighing the memory key of bubblegum ice cream against the known thrill of double trouble chocolate or the velvet promise of raspberry cheesecake swirl... and still find yourself empty handed.
Because in the time it's taken you to finally make your choice, somebody else has walked away with your prize. You're left with nothing but an empty bucket.
(Now imagine I'm saying that nonsense like it is an important and deep metaphor.)
Does Lois Lane know where their towel is?
Hanging on the bathroom towel rack, unless supervillains have blown a hole in that apartment wall again (or Clark hasn't been around lately to pick her shit off the floor).
As a sidenote,

hannahrorlove
mentioned she hoped that she hoped she'd chosen the Old Spice Man with this question, and while that didn't happen, my answer would have been "Yes".
Where does Jaime Reyes take prospective dates?
Supervillain fight!
...It's not that he *plans* to, okay, but his universe operates under certain narrative laws.
Does the Old Spice Man have a favorite month of the year?
After defeating the ghost of Gaius Julius Caesar Augustus in a high stakes eyebrow wriggling contest, the Old Spice Man is awarded the month of August. He immediately renames it to Montember in recognition of Janelle Monae's services to fantasticness. (He originally tried "January," from "Janelle" and "uary", but it just didn't have the same ring.)
After Augustus has finished weeping ectoplasm tears at the beauty of the Old Spice Man's furred eye fedoras, the Old Spice Man introduces him to youtube so he can see Janelle Monae's videos himself. The ghost agrees that there's no better use for a month. And then Augustus proceeds to spend five hours watching kittens fall off roombas.
What does Starbuck do to stay in shape?
What
Who
does Starbuck do to stay in shape?
Fixed that for you. ;) No, but we've seen her various training exercises on the tv.
How would Amanda Waller deal with a zombie apocalypse?
Holy shit this is the best question that has ever been asked in the history of questions. I would read this novel.
Considering the nature of the DCU, I would be utterly shocked if she didn't have a plan for exactly such a contingency. She knows where all the secret underground bunkers are, and she keeps them well stocked because if it isn't a zombie apocalypse it'll be another alien invasion or a pissed off Green Lantern or an elder god tunneling up through the earth's crust. (Note: make sure bunkers are earthquake proof.) She knows which superheroes are immune to zombies and where the survivors will probably gather.
The hard bitten maverick hero leading a cut off group of ragged survivors over abandoned USA highways is the traditional zombie apocalypse story, but Amanda is more that quasi-antagonist he butts heads with after the initial relief of finding her bunker complex. Seriously, dude, she's not telling you to follow her rules or GTFO 'cause she's corrupted with power, it's 'cause she's running the logistics hub of a zombie-infested planet and they're working on getting humans back in charge. Like she has time to deal with your whiny manpain.
John Egbert, Karkat Vantas, Cristina Yang, and a spankbot team up to fight crime. What's a day in their detective agency like?
....okay.
THEY ARE THE WORST DETECTIVES. They solve no crimes. Cristina is too focused on the endgame to actually pay attention to witnesses/suspects, John is too easily bored and distracted to pick up on hidden clues (although he has a proper detective's hat, so he must be a proper detective!), and Karkat has found/made up some nonsense rules he maintains are the ONLY WAY to do things. (John has stepped into the murder room with the *wrong foot* first! John has ruined the entire crime scene!)
...This is the Amanda Waller-led con man team from a previous meme, except without Amanda Waller. Maybe they are *undercover* as detectives, but really Amanda just wanted someone else to babysit John and Karkat for a while because damn those two are a noisy, roving disaster area that keeps following her around, asking to go on missions. FINE. Have a mission. Now shut up and let her deal with people she wouldn't feel (as) guilty for shooting if they annoy her.
The spankbot is once again John's cyborg bunny, which he takes out for non-spanking related entertainment when they aren't On A Case. (Honestly, I'm not sure if they're EVER On A Case.) It probably also has senses which would make crime scene analysis easier, but John doesn't have the instruction manual anymore. After the events of the last time they teamed up (And look,

petra
, it did indeed happen again, what the hell, this meme). Karkat is terrified of that thing. Which manifests itself in even MORE yelling from him than usual.
Cristina Yang thinks that after this Amanda had better owe *her* a favour. It would be enough to make her swear off children forever if this was a universe where she hadn't already sworn off children forever! At least when she shouts at them to shut the hell up, it works. For a couple minutes, anyway. This is because Karkat is also terrified of Cristina. She keeps asking him questions about how his circulatory system works and then, like, staring at his torso as though she is filled with a deep longing to crack it open. Her eyes will just
follow
him when he moves. (One time they went to a Chinese smorg, and Cristina was crunching apart her greasy overcooked crab legs with this *very thoughtful* expression. It haunts Karkat in nightmares.)
So Karkat tries to keep John between him and Cristina whenever the three of them are in the same room. As he's also trying to hide from the spankbot, it gets pretty awkward, but John is oblivious to the tension. They are three teambuddies on an important undercover mission! His co-teambuddies have what seems to be a hilarious hard boiled detective sort of relationship, it's awesome! And he's pretty sure Karkat's not going to try and piss off the spankbot again; there are no problems here, none at all! Except for they haven't solved any cases, I guess.

jkarabella
asked:
Rose Lalonde and Amanda Waller are both trying to woo the Old Spice Man, what do they they to impress them, and what does Burton Guster think of this?
I'm not sure "woo" is being used here in its romantic sense, because while Amanda'd agree the Old Spice Man is decorative, she's aware that whatever he is, he's not really capable of interacting on the human relationship level.
Perhaps she needs his help with some day-saving. Gus is the bait to get his attention, but as much as Gus will
also
agree the Old Spice Man is decorative, Gus gets offended at his insinuations. Gus does so smell like a man! He just smells like a man who enjoys a subtle lilac undertone to his shower gel!
(Gus feels privileged to serve his country, ok, but being the speed-dial for a fighter pilot mountain climber world record holder in concentrated awesome, because said fighter pilot/etc does not approve of how he smells is not exactly what he imagined.)
And then... I'm not really surprised Amanda Waller and Rose Lalonde are acquainted, no doubt through Rose's mother. All sorts of Most Influential dinner guests at the Lalonde household, making small talk around the kid, that is my belief. There may be some swooning when Rose meets the Old Spice Man, because what 13 year old girl isn't straight for the Old Spice Man.
Unfortunately her attempts at dazzling him with her charms are a mix of sarcasm and a passive aggressive magical threat display. The Old Spice Man completely misses the sarcasm and interprets her battle parries as a friendly challenge in the manner of bros, if one bro was a miracle of divinely sculpted flesh resting on a pedastal of muscle and sinew shaped into legs that would render Usain Bolt to awed, manly tears, and the other bro was in fact a young lady!

angel_gidget
asked:
A spankbot and Agatha Heterodyne go to a concert together. What band can they agree on?
UHHHHM.
German Industrial Something? That's a thing, right?
But sadly I am the wrong person to ask about bands.
This is the first thing
Google gave me for German Industrial music.
John and a spankbot are taking a class together. But in what?
Art History 100 is sooo boooring. If only John had a sister who could build a robot duplicate to take his place--
Oh, wait!
And then a week or so later John is called to the Dean's office about the incident when the teacher asked him to share his hobbies with everyone...
Okay, at this point, the *real* question is why does Jade keep adding that subroutine to all her robots oh my god.
Would Karkat sacrifice his/her spleen for Rose?
Well... yes. Or whatever alien equivalent. (I'm assuming it is not for a medical transplant.) If Rose's life for some reason hangs in the balance of where his spleen is located, of course he would. Although it helps that trolls don't seem to have much concept of body horror.
But.
He will not stop complaining about it. Ever. Ever ever ever. 50 years from now, he is still going to be bringing it up if he thinks she's been hogging Kanaya.
"It's like there's this empty hole in my collapsing and expanding vascular system. No, my mistake, that's the hole where my *spleen* used to be."
"It's true that sudden onset memory loss is an ever-present risk for a human of my advancing years, but I have no reason to doubt my recollection of a young Karkat Vantas assuring me his 'blood platelet metabolization sponge' would regenerate itself within forty of my 'Earth days'."
"That's not the fucking point!"
"Then what, shall I inquire to your cue, might your point be?"
"The thirtieth
Twilight
movie opens this weekend, and Kanaya is going to see it with *me*."
What is the Old Spice Man's first impression of Jaime Reyes?
Jaime smells like an alien, not like the manly scent of Old Spice bodywash!
Yes, well. Jaime is sort of *wearing* an alien. It's what is superhero costume is made of. Sort of. Look, he'll be more than happy to explain that at length to the Old Spice Man later, but maybe for now the Old Spice Man could stop circling Jaime on his tiger doing a handstand on a flying skateboard and offering Jaime free samples of shower fragrances? Just until Jaime's done figuring out what to do about the 20 story tall slug slowly sliming its way towards El Paso, it's not that he's against free samples!
Who does Lois Lane teamup with in event of a zombie apocalypse?
Amanda Waller!
:D

jarodrussell
asked:
Can Rose Lalonde build a trap to catch Karkat Vantas?
Oh, is this how she ended up with the spleen?
If Rose had a need to contain him, I'm sure she could, although it may involve more magic tentacles than anyone's comfortable with outside a kink meme. Could she manipulate him into a previously prepared trap? Yep with pretty much no qualifiers I can think of.
Karkat is no doubt suspicious.
I HAVE A DEVELOPED IMMUNITY TO FLIGHTY BROAD SNARKY HORSESHIT. WHO DO YOU EVEN THINK YOU ARE TALKING TO.
But Rose gets him every time.
The only problem is now that she's got him, I'm stretched to imagine what she wanted him for. Maybe she just sets up
rhetorical
traps over IM that include the phrase "cultural sensitivity" a lot and end with people laughing at him.
If you gave the Old Spice Man a bucket of LEGO, what would end up being built?
If it wasn't for this question, I'd have posted this a couple days ago. I feel like there is a really excellent answer to this if only I could think of it!
But anyway, I am pretty sure this is what his royal castle in Ellenopia is made out of.
True story.
Every day he reassembles it into the shape of a race car, or a shuttle, or a grape. Or sometimes, if he is in the mood, the towers and turrets of a castle!
Burton Guster and Agatha Heterodyne are in a race, how long does Jaime Reyes watch before getting bored?
Well, getting bored isn't the problem here. The problem is that what Gus and Agatha are racing *away* from is a giant stompy cyborg elephant/poinsettia thing and what kind of superhero would just hover around and watch that so long as it is entertaining?
Okay, it is pretty entertaining. The monster has seven legs and it tries to use them all at the same time and so it is far less effective at stomping than Gus is at screaming and waving his arms around or Agatha is at fixing her death ray while running in heels. But Jaime is gonna swoop in and save the day anyway, it is kind of his thing.

milkshake_b
asked:
Years ago, Cristina Yang and John Egbert had a night of random passion with this stranger they'd just met in a Gogo Club.
...
......
When they meet again in the now, they don't recognize each other, which is good because now they're on a superhero team with Kara Thrace, Jaime Reyes, Karkat Vantas, and Lois Lane, and Cristina Yang is dating a spankbot, who runs a bakeshop,
Sexbot who cooks. This sounds like a pretty awesome S.O. for Cristina not even kidding.
...Actually wow it is a Zettai Kareshi crossover, isn't it?
Nice taste
, Doctor Yang!
and John Egbert is having serious UST with Jaime Reyes, who leads the group.
Lois got sick of dealing with everyone's bullshit, didn't she? Ah well, not surprised John approves of Jaime's friendleader style.
When Kara Thrace, who has known them longest, begins to realize the truth, what wacky hijinks ensue?
Has she? ...Starbuck was the stranger from the Gogo Club, I take it.
...This scenario makes complete sense until I remember John Egbert was there. Way to
go
, kid, I guess. I know I would trade you for your "how I lost my virginity" story.
Does s/he tell them, and if so, which them--Cristina and John, the spankbot and Jaime, all four, or everybody? How do various people take it?
I figure the truth comes out eventually. Jaime is impressed, if a little weirded out. Karkat has a minor meltdown but what else is new. The spankbot is indifferent. And Lois Lane gives Cristina and Kara a talk on "Statuatory Rape: Times When It Is Not Appropriate."
Do the current relationships stand or is the passion of the past reignited? What the hell were they doing in a Gogo Club anyway?
Why *wouldn't* Cristina Yang and Kara Thrace be at a Gogo Club? ...I'm sure John had a good reason for sneaking in. Like, he was 13 and Dave's Bro was working that night, sounds airtight to me.
And most importantly of all, how good are the spankbot's muffins?
So good. What you think Cristina sticks around for the *spankings*?
The end!